What To Do About Carpenter Ant Problems Around Your Texarkana Property
October 15, 2020
There are innumerable amounts of insects on earth, and for every kind, there's a multitude of subspecies. Contrary to popular belief, there are more differences between each class than size, shape, and color. Alternate behavioral patterns can exist, as well as eating habits, natural habitat, and lifespan. The same goes for the risks. While one set of risks can be relatively harmless, another can be lethal.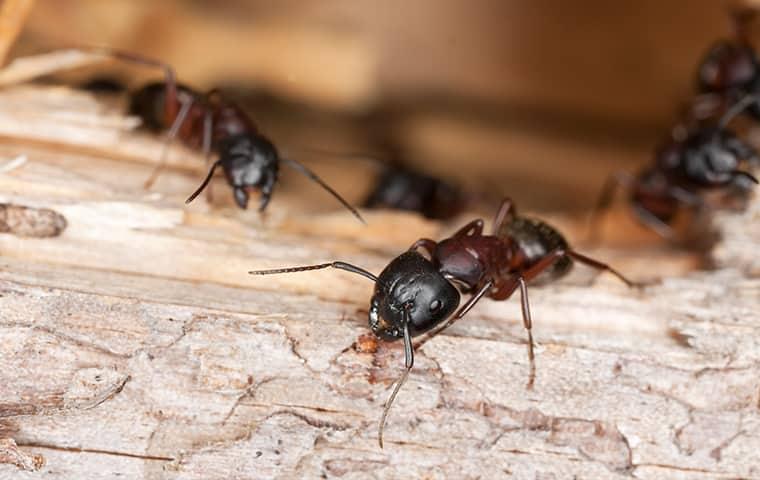 In the ant world, all ants are dangerous because they carry illness-causing bacteria. Ants can taint your food and surfaces. However, some come with the additional threat of ruining your belongings. Carpenter ants can severely damage Texarkana homes and businesses because they penetrate the wood. The only thing they have over termites is that it takes them a longer period to do the same level of damage. Learn how to prevent and defeat these insects with the help of Pest-Pro Services, Inc.
What Do Carpenter Ants Look Like? What Are The Dangers?
Among all the ant species, carpenter ants are on the larger side at ¼ to ½ of an inch long. Some are black, red, or a mix of both. Others are tan, brown, yellow, or orange. Many have distinct features. For example, workers in the colony have big mandibles in front of their bodies. As their name suggests, they do all the labor. Swarmers have the duty of reproduction and nest formation. They have wings to help them fly out and mate.
Carpenter ants live to plow through the wood and make tunnels and nests. Damp or rotting trees, logs, and lumber will be most susceptible to their invasions. These bugs get into homes and businesses by running along branches and crawling onto roofs. They can slip through gaps and around piping, utility lines, vents, wires, and foundations. When they enter a kitchen, they'll feed on meat and sugary items. If they find fellow bugs, they'll munch on them too. That in mind, you could have an overall pest problem if carpenter ants are present.
From the inside out, carpenter ants can cause structures to become unstable and frail. They also create perceptible cosmetic injury. Since these critters typically sit behind walls, you may not realize there's an issue until it's too late. You might spot a swarmer gliding around lights. Knocking on a wall could startle the ants, and they'll rush out.
Seeing just one of the destroyers might not indicate an infestation, but look for these signs:
Stacks of wood shavings that include ant body parts

Piles of scaly swarmer wings

Hearing rustling or clicking noises behind walls

Having walls that sound hollow
How Can You Prevent Carpenter Ants?
You can avoid having an infestation of carpenter ants if you take these steps:
Seal up openings near foundations, paneling, windows, doors, caulk, and pipes.

Weatherstripping and sweeps should be added to doors and windows.

Moisture faults and leaks need to be repaired right away; particularly if it's affecting wood.

Decaying wood and trees should be removed.

Use airtight containers for garbage and to store food.

Vacuum the house and wash your dishes with regularity.

Place plants and loose wood a few feet away from exterior doors.

Call Pest-Pro Services, Inc. if you have bugs that carpenter ants can consume.
What Can Pest-Pro Services, Inc. Do About Carpenter Ants?
The expert technicians at Pest-Pro Services, Inc. will utilize industrial-grade equipment and products designed to exterminate carpenter ants. All of our pest solutions will be safe for people and pets. Our pest control plans are cost-friendly and comprehensive, and will provide thorough care. They come with recurring visits, real estate transactions, additional wood-destroying organism evaluations, and more. Give us a call today at Pest-Pro Services, Inc. and you will receive a free inspection!