Mosquitoes
What are mosquitoes?
Mosquitoes are a type of true fly that live successfully world-wide. Mosquitoes are parasitic pests, but only the females feed on the blood of people and mammals in order to get the protein required to create their eggs. Both males and females feed on plant nectar and pollen as their main food source.
In general, adult mosquitoes have slender bodies; long legs; narrow hairy wings; and extended, specialized mouthparts that they use to feed on both blood and nectar. Their color or color pattern is species-specific, but most mosquitoes are black, dark brown, or black and white in color.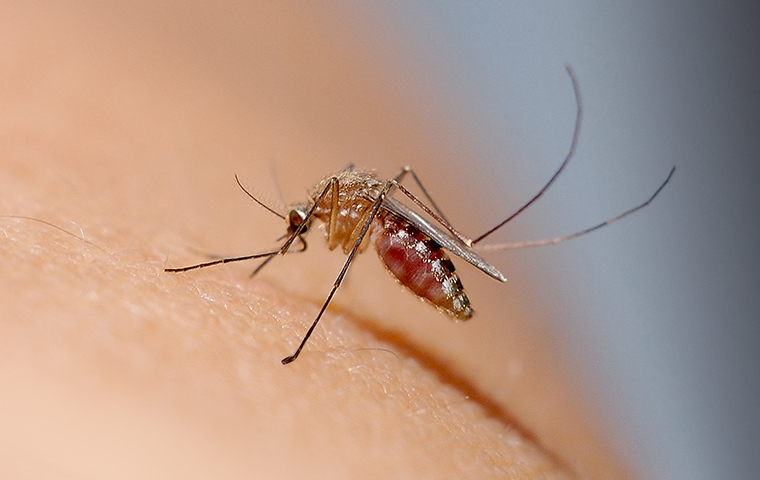 Are mosquitoes dangerous?
Mosquitoes are dangerous due to the many diseases they have the potential to transmit to people and animals in Texas and Arkansas and the world. In the United States, mosquitoes are responsible for transmitting diseases such as the West Nile virus, encephalitis, and the Zika virus. Across the world, especially in developing countries, mosquitoes are responsible for spreading malaria and causing hundreds of thousands of deaths each year.
Why do I have a mosquito problem?
Mosquitoes breed in standing water and therefore are attracted to properties with areas of standing water on them. Ornamental ponds, wading pools, drainage ditches, containers that collect water, clogged gutters, or water on the tops of tarps and trash can lids can attract mosquitoes and allow them to thrive on a property.
In addition, properties with a lot of flowering vegetation, long grass, and dense overgrowth are attractive to mosquitoes.
Where will I find mosquitoes?
Mosquitoes are found near areas of standing water. They are most often found living on land that boasts ponds, marshes, swamps, and wetlands. They prefer environments that are hot and humid.
Mosquitoes are most active at dusk and dawn. During the heat of the day mosquitoes rest and hide in tall grasses, areas of dense vegetation, along fence lines and tree lines, under tree leaves or behind tree bark, and underneath decks or porches.
Mosquitoes also often make their way inside homes while searching for a blood meal. They get inside through spaces found around windows and doors, open windows and doors, or through holes found in screens.
How do I get rid of mosquitoes?
The most effective way to reduce mosquito populations on your property is with the assistance of a pest control company that specializes in mosquito control. At Pest-Pro Services, Inc., the first step we take to control mosquitoes is to provide a free inspection and estimate. Our dedicated technicians then provide the services and maintenance visits needed to get rid of mosquitoes around your home and on property.

Servicing Northeast Texas and Southwest Arkansas including Texarkana, Pest-Pro Services, Inc. is committed to using advanced products to reduce mosquito numbers through our guaranteed pest control services. To learn more about limiting mosquito populations on your property, contact Pest-Pro Services, Inc.
How can I prevent mosquitoes?
In combination with professional pest control services from Pest-Pro Services, Inc., there are things you can do around your Texas home and property to make it less attractive to mosquitoes:
Reduce standing water on your property. Keep containers that can collect water upside down when not in use.

Keep gutters maintained to stop water from pooling in them.

If possible, fill in low-lying areas around your lawn.

Trash cans and dumpsters should have tight-fitting lids.

Keep tarps tied tight to prevent them from collecting water.

Repair or replace window and door screens.

Reduce the amount of flowering vegetation planted close to your home.

Make sure screens are intact, and place weather stripping around windows and doors.
Request Your Free Inspection
Complete the form below to schedule your no obligation inspection.